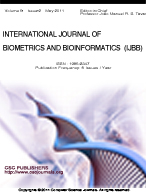 International Journal of Biometrics and Bioinformatics (IJBB)
Published -
Bi-Monthly
| Established -
2007
| Year of Publication -
2018
Published by
CSC Journals, Kuala Lumpur Malaysia.

EDITORIAL BOARD
Dr. Peng Jiang
Morgridge Institute for Research, University of Wisconsin-Madison - United States of America
Contact Details
Email - pjiang8@wisc.edu
330 N. Orchard St., Madison, WI, USA
United States of America
ABOUT Dr. Peng Jiang
I am a computational biologist in Morgridge Institute for Research at the University of Wisconsin-Madison. My research mainly focuses on developing computational and statistical methods to analyze biological data generated from high-throughput technologies (e.g., RNA-Seq, CLIP-Seq and SELEX-Seq). My long-term goal is to use computational and genomic approaches to study the gene regulation (e.g., gene expression, alternative splicing, and epigenetic regulation) in biological systems (e.g., different developmental stages) as well as the perturbation of those regulations in different disease models. I am also interested in integrating different types of data, which are generated from both population genetics and comparative genomics to investigate the evolutionary process, which shapes genome variability patterns within and across species.
Dr. Peng Jiang handles review of manuscripts that are submitted under the following topics.
Computational genomics
Computational structural biology
Gene expression and microarrays
Gene identification and annotation
Genetic algorithms