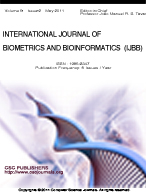 International Journal of Biometrics and Bioinformatics (IJBB)
Published -
Bi-Monthly
| Established -
2007
| Year of Publication -
2018
Published by
CSC Journals, Kuala Lumpur Malaysia.

EDITORIAL BOARD
Professor Sanderson L. Gonzaga de Oliveira
UFLA - Brazil
Contact Details
Email - sanderson@dcc.ufla.br
Departamento de Ciência da Computação - Universidade Federal de Lavras Campus Universitário - Caixa Postal 3037 - 37200-000 - Lavras MG
Brazil
ABOUT Professor Sanderson L. Gonzaga de Oliveira
Sanderson L. Gonzaga de Oliveira has doctorate in computer science, with thesis in numerical methods, applied mathematics and scientific computing at Universidade Federal Fluminense (UFF); master's degree in computer modeling, with dissertation in image processing and applied mathematics at Universidade do Estado do Rio de Janeiro (UERJ), specializing in management and strategic planning at Pontifícia Universidade Católica do Paraná (PUC-PR) and undergraduation in (computer) systems analysis at PUC-PR. He worked for approximately 10 years as a system analyst in business banking. He is currently professor of degrees in Computer Science, Information Systems, Lato Sensu Graduate in Administration Linux Network and member of the Post-graduate studies in Computer Science at Universidade Federal de Lavras.