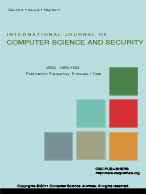 International Journal of Computer Science and Security (IJCSS)
Published -
Bi-Monthly
| Established -
2007
| Year of Publication -
2019
SUBMISSION
January 31, 2020

NOTIFICATION
February 29, 2020

PUBLICATION
March 31, 2020

CITATION ANALYSIS
IJCSS Citation Impact
(2086 - 5) / 324 = 6.423
Refer to Citation Report for 2018 for complete details.
ABSTRACTING & INDEXING

Google Scholar
Academic Journals Database
ScientificCommons
Academia
Academic Index
FIND MORE
| | |
| --- | --- |
| | OPEN ACCESS LIBRARY |
IJCSS EDITORIAL BOARD MEMBER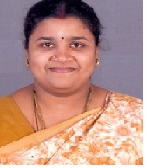 Dr. A. Akila Ganesh
Vels Institute of Science, Technology & Advanced Studies - India
Contact Details
Email - dr.a.akilaganesh@gmail.com
Department of Computer Science, School of Computing Sciences, Vels Institute of Science, Technology & Advanced Studies, Pallavaram, Chennai. Tamilnadu. India
India
ABOUT Dr. A. Akila Ganesh
Presently working as Assistant Professor in Department of Computer Science, School of Computing, Vels Institute of Science, Technology & Advanced Studies (VISTAS), Chennai. 9 years of experience in teaching computers at college level, 2 years 10 months of experience in the IT industry with complete life cycle implementation. Completed Ph.D( Computer Science) on Tamil based Speech Recognition in Bharathiar University on 2014. 30 research articles have been published in international journals including 9 in Scopus (3 IEEE) and 2 in Springer, 4 in UGC Approved Journals) and 12 research articles has been submitted to international journals including Scopus Journals. The Google Scholar i10 index- 3, h-index-4, citations-53. The Scopus - h index- 2, Citation- 7 . The Research Gate - RG Score-4.37, h-index-3, citations- 36. Received Best Women Faculty Award 2018 from DK International Research Foundation, Perambalur , Young Educator & Scholar Award - 9th Teachers' Day Awards 2018 from National Foundation for Entrepreneurship Development (NFED), Coimbatore and Shri PK Das Memorial Best Faculty Award 2018 - Computer Science from Nehru Group of Institutions, Coimbatore.
Acting as Editorial Board Member of the Journal Insight- Automatic Control of the Pisco Med Publishing, International Journal of Latest Technology in Engineering, Management & Applied Science (IJLTEMAS), Blue Eyes Intelligence Engineering & Science Publication, American Journal of Artificial Intelligence(AJAI) and acting as reviewer in many International Journals. Life Time Member in Computer Society of India and Member in International Association of Academicians Scientist, Scholar and Engineers. Organized several seminars with speakers from various parts of India as well as overseas. Got approval for Ph.D Guidance from Vels Institute of Science, Technology and Advanced Studies (VISTAS), Chennai. Guided 4 M.Phil Scholars and currently guiding 8 PhD Scholars and 1 M.Phil Scholars. Coaching the candidates through the Center in Karur for the Competitive Examination for the recruitment of Computer Instructors in Government Higher Secondary Schools. Acted as external examiner in Shrimathi Dev Kunvar Nanalal Bhatt Vaishnav College for Women (SDNB Vaishnav College), Chennai. Prepared Lessons for IDE- University of Madras, Chennai for the subject Information Technology, B.Com (Computer Applications).
Dr. A. Akila Ganesh handles review of manuscripts that are submitted under the following topics.
Signal Processing
Authentication and Authorization Models
Computer Security
Cryptography
Data Mining