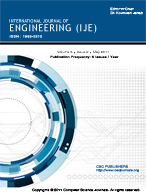 International Journal of Engineering (IJE)
Published -
Bi-Monthly
| Established -
2007
| Year of Publication -
2018
Published by
CSC Journals, Kuala Lumpur Malaysia.

EDITORIAL BOARD

Professor Suleyman KARACAN
Ankara University, Turkey - Turkey
Contact Details
Email - karacan@eng.ankara.edu.tr
Degol street, Ankara University, Faculty of Engineering, Chemical Engineering Department, 06100, Tandogan-Ankara-Turkey
Turkey
ABOUT Professor Suleyman KARACAN
Dr. Süleyman Karacan received his Ph.D. degree from Ankara University, Turkey in 1997. He is a member of Union of Chambers of Turkish Engineers and Architects. He is currently working as a Professor at the Department of Chemical Engineering, Ankara University, Turkey. He is having overall teaching experience of 15 years. He has published more than 60 papers over 400 citations recorded by Google Scholar in the field of chemical engineering, control system engineering and process engineering. His major research interests are in Reactive Distillation, Modeling, Process Control, and Simulation.
Professor Suleyman KARACAN handles review of manuscripts that are submitted under the following topics.
Chemical Engineering
Control System Engineering
Engineering Science
Industrial Engineering
Robotic & Automation Engineering