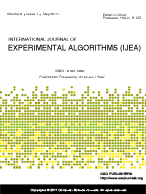 International Journal of Experimental Algorithms (IJEA)
Dursun Delen
(Oklahoma State University - United States of America)
Published -
Bi-Monthly
| Established - | Year of Publication -
2018
Published by
CSC Journals, Kuala Lumpur Malaysia.

EDITORIAL BOARD
Dr. Kenneth Revett
British University in Egypt - Egypt
Contact Details
Email - ken.revett@bue.edu.eg
P.O. Box 43 Misr-Ismailia Road El Sherouk City 11837 Cairo, Egypt
Egypt
ABOUT Dr. Kenneth Revett
Dr. Revett is involved in teaching a variety of undergraduate/post-graduate modules in Artificial Intelligence, machine learning, biometrics, and bioinformatics. In addition, I have 130+ publications, author of the textbook Behavioral Biometrics: a Remote Access Approach (Published by Wiley & Sons, 2008), editor in chief of the International Journal of Cognitive Biometrics and International Journal of Cognitive Performance Support (both published by Inderscience Publishers). I am actively engaged in research in Biometrics, modelling complex biological pathologies such as stroke, and bioinformatics, and serves on over 30 international programme committees in these domains. Currently, I am working on 3 additional book projects, focusing on Bioinformatics, Cognitive Robotics, and cognitive Biometrics.