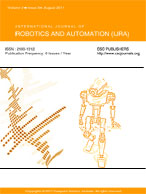 International Journal of Intelligent Systems and Applications in Robotics (IJRA)
Published -
Bi-Monthly
| Established - | Year of Publication -
2020
SUBMISSION
January 31, 2021

NOTIFICATION
February 28, 2021

PUBLICATION
March 31, 2021

ABOUT IJRA
Robots and Automation are becoming part of people's everyday social lives - and will increasingly become so. In coming years, robots may become caretaking assistants for the elderly or academic tutors for our children, or medical assistants, day care assistants, or psychological counselors. Robots may become our co-workers in factories and offices, or maids in our homes.

International Journal of Intelligent Systems and Applications in Robotics (IJRA), previously known as International Journal of Robotics is a peer review open access journal aims in providing a platform to researchers, scientists, engineers and practitioners throughout the world to publish the latest achievement, future challenges and exciting applications of intelligent and autonomous robots. IJRA is aiming to push the frontier of robotics into a new dimension, in which motion and intelligence play equally important roles. IJRA scope includes automation control, autonomous robots, household robots and automation, nanotechnology & robotics (nanobots), robot controller, robotic exploration, robotic surgery, robotics programming and robotics technologies.

IJRA widens the scope by combining both the robotics and software development used for industrial automation. The journal focuses on the analysis, new discoveries and innovative ideas and improvements made in the field of robotics. The journal is targeted to be read by researchers, academics, scientists, engineers, technical professionals and policy makers and assist them to disseminate latest information in the field of robotics and automation.
LIST OF TOPICS

Automated Tactile Sensing & Display





Emergence of The Thinking Machine


Household Robots and Automation


Jacobian and Singularities

Methods for Teaching Robots

Nanotechnology & Robotics (Nanobots)



Robot Structure and Workspace

Robotic & Automation Software Development



Robotic Surgical Procedures





Robots Society and Ethics

Software and Hardware Designing for Robots



Unmanned (Robotic) Vehicles
CITATION ANALYSIS

In-process citations of IJRA that are extracted through Google Scholar.



Total Citations = 1178
Self Citations = 0
Total Publications = 62


Citation Impact
(Total Citations - Self Citations) / Total Publications

Citation Impact
(1178 - 0) / 62 = 19.000

In-Process Citation Report for IJRA

- Wide dissemination of publications

- International readership

- Qualitative Processes
(submission, review and publication)

- Pre / Post publication services

- Fast & timely publications

ARTICLE PROCESSING CHARGES (APC)

- Low APC when compared with other publishers

- Full/Partial Waiver in APC to young scientists

PARTNERSHIP & COLLABORATION
IJRA PUBLICATIONS

Universities, institutes & research centers.

UNITED STATES OF AMERICA
AUSTRALIA
GERMANY
SPAIN
MALAYSIA
CHINA
JAPAN
TAIWAN
MEXICO
UNITED ARAB EMIRATES
JORDAN

ABSTRACTING & INDEXING

Google Scholar
Academic Index
CiteSeerX
BibSonomy
refSeek
TechRepublic
iSEEK
ResearchGate
Doc Player
Bielefeld Academic Search Engine (BASE)
OpenJ-Gate
Scribd
SlideShare
PdfSR
Google Books
Refer to IJRA Abstracting & Indexing for complete list of databases/websites.