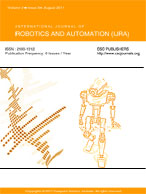 International Journal of Intelligent Systems and Applications in Robotics (IJRA)
Published -
Bi-Monthly
| Established - | Year of Publication -
2018
Published by
CSC Journals, Kuala Lumpur Malaysia.

EDITORIAL BOARD

Dr. Tien-Fu Lu
The University of Adelaide - Australia
Contact Details
Email - tien-fu.lu@adelaide.edu.au
School of Mechanical Enginering, University of Adelaide, North Terrace, Adelaide, South Australia, SA 5005, Australia
Australia
ABOUT Dr. Tien-Fu Lu
Dr. Tien-Fu Lu received his Bachelor and MS of Science in Mechanical Engineering from National Cheng Kung University, Taiwan, followed by Ph.D. in Manufacturing and Mechanical Engineering from University of south Australia, Australia, in 1997. He is currently a senior lecturer at the School of Mechanical Engineering, University of Adelaide. Dr. Tien-Fu Lu is the leader of robotics research lab at the University of Adelaide and his current research interests include robotics (exoskeleton, modelling, trajectory planning, and chemical plume source localisation), mechatronic technologies in mining, agriculture and micro-motion robotic systems (pzt actuator modelling and control, bio-degradable actuators and micro-motion stages). He is currently an associate Editor of the Australian Journal of Mechanical Engineering (AJME), Engineers Australia, and a member of the International Journal of Intelligent Mechatronics and Robotics (IJIMR) Editorial Board.
Dr. Tien-Fu Lu handles review of manuscripts that are submitted under the following topics.
Biotechnology & Robotics
Automated Tactile Sensing & Display
Forward Kinematics
Nanotechnology & Robotics (Nanobots)
Trajectory Generation