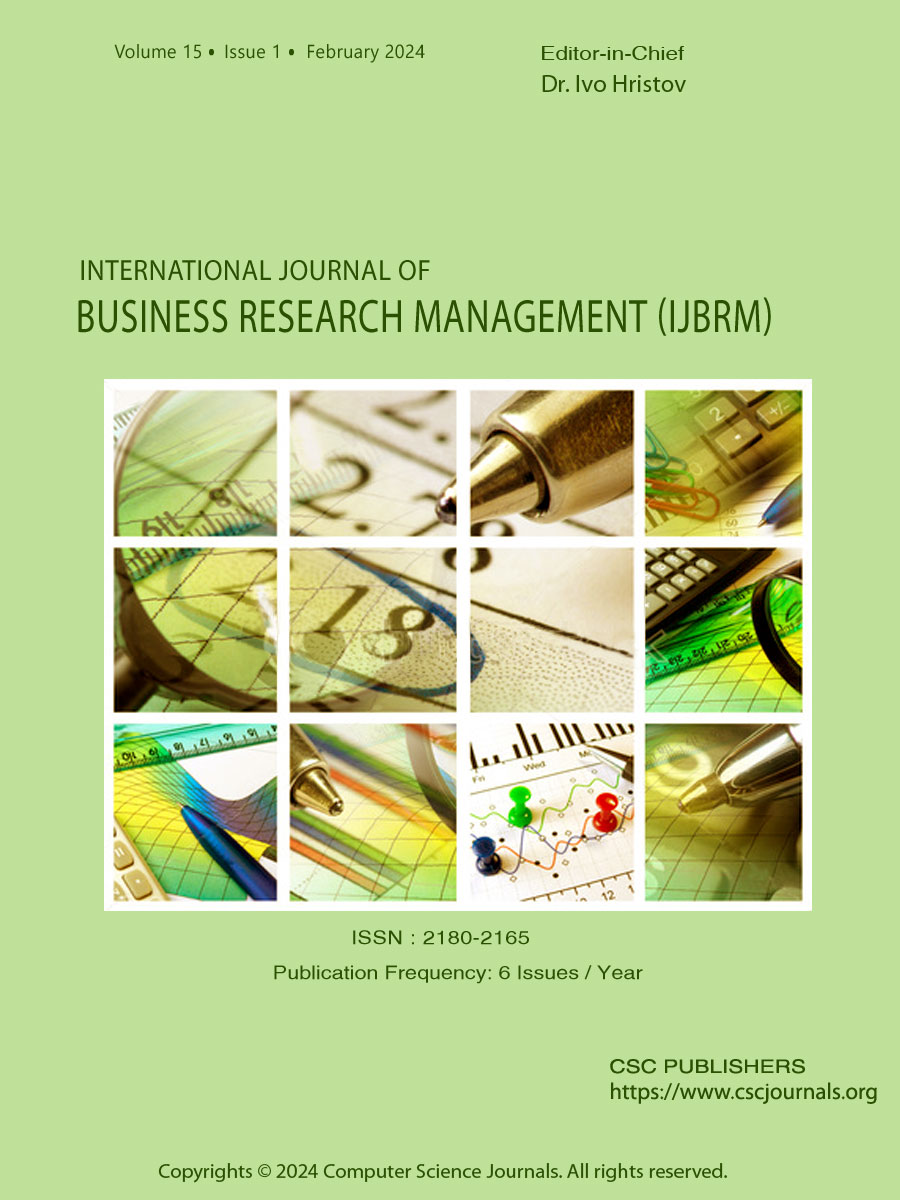 International Journal of Business Research and Management (IJBRM)
Published -
Bi-Monthly
| Established - | Year of Publication -
2021
SUBMISSION
June 30, 2021

NOTIFICATION
July 31, 2021

PUBLICATION
August 2021

CALL FOR PAPERS
Expected SUBMISSION Date
December 31, 2020
Expected NOTIFICATION Date
January 31, 2021
Expected PUBLICATION Date
April 01, 2021
| | | |
| --- | --- | --- |
| | | OPEN ACCESS LIBRARY |
IJBRM SPECIAL ISSUE
Management, Entrepreneurship, Organizational Change and Digital technology in post- COVID-19 New Business World (SIBRM1)
GUEST EDITORS
• Dr. Mfazo Cliford Madondo (madondom@ukzn.ac.za)


University of KwaZulu-Natal, South Africa (UKZN) (South Africa)
• Dr. Josphat Manyeruke (josphatmanyeruke@gmail.com)


Chinhoyi University of Technology (Zimbabwe)
• Mrs. Tsitsi Watt (tsitsi_watt@yahoo.ca)


Fielding Graduate University, School of Leadership Studies, Human and Organizational Development Program, California (United States of America)
• Dr. Martin Mabeifam Ujakpa (m.ujakpa@ium.edu.na)


International University of Management (Namibia)
• Dr. Tongesai Mpofu (tmpofu@cut.ac.zw)


Chinhoyi University of Technology (Zimbabwe)
DETAILS
The purpose of this Special Issue of International Journal of Business Research and Management is to elevate the academic the intertwined conversation on Management, Entrepreneurship, Organizational Change and Digital technology in a post- COVID-19 New Business World – with a main (but not exclusively) focus on southern Africa.

The global spread of the COVID-19 pandemic is altering the international business and regional and national economies. Stemming from that, academic literature is already interrogating how to recover from the much-disrupted production and provision of goods and services among global communities and businesses. In this vein, for example, Ivanov and Das (2020) observe that since the COVID-19 epidemic has disrupted services required for human survival – from mobility to communication, especially the ones connected with food supply – generating new perspectives is required for the resilience of international supply networks (ISNs), that impact, in an intertwined way, employees and customers well-being (Mollenkopf, Ozanne, and Stolze, 2020). Indeed, as advanced by Ratten (2020) and Papadopoulos, Baltas, and Balta (2020), there is a lack of integrative body of literature between crisis management, entrepreneurship, SMEs' use of digital technologies, and the COVID-19 epidemic. In sum, this health crisis has influences and consequences in cultural, lifestyle, and social entrepreneurship, necessitating intertwined research for daring business success in a post- COVID-19 world.

In this regard, southern Africa contributed articles will form a collection of a unique and timely commentary on the post-COVID-19 business environment in the region and contribute to business research and management on COVID-19 pandemic.

LIST OF TOPICS
A CALL FOR PAPERS is based on these possible (but not exclusively) themes including the Covid-19 pandemic (possibly in southern Africa) as a context:

• Global business competitive advantage and strategies
• Digital technology and smart home design
• Entrepreneurship, with foci in women and youth entrepreneurship
• Organizational change: managing new workspaces and workplaces
• Digital marketing and international marketing
• Balancing acts in business recovery
• SMEs and family businesses
• Global supply chain management
• Corporate Governance

REFERENCES
[1] Ivanov, D., & Das, A. (2020). Coronavirus (COVID-19/SARS-CoV-2) and supply chain resilience: A research note. International Journal of Integrated Supply Management, 13(1), 90-102.
[2] Ketchen Jr, D. J., & Craighead, C. W. (2020). Research at the Intersection of Entrepreneurship, Supply Chain Management, and Strategic Management: Opportunities Highlighted by COVID-19. Journal of Management, DOI: 10.1177/0149206320945028.
[3] Mollenkopf, D. A., Ozanne, L. K., & Stolze, H. J. (2020). A transformative supply chain response to COVID-19. Journal of Service Management, DOI: 10.1108/JOSM-05-2020-0143.
[4] Papadopoulos, T., Baltas, K. N., & Balta, M. E. (2020). The use of digital technologies by small and medium enterprises during COVID-19: Implications for theory and practice. International Journal of Information Management, DOI: 10.1016/j.ijinfomgt.2020.102192.
[5] Ratten, V. (2020). Coronavirus (covid-19) and entrepreneurship: changing life and work landscape. Journal of Small Business & Entrepreneurship, 32(5), 503-516.
[6] Ratten, V. (2020). Coronavirus disease (COVID-19) and sport entrepreneurship. International Journal of Entrepreneurial Behavior & Research, Vol. 26 No. 6, pp. 1379-1388.