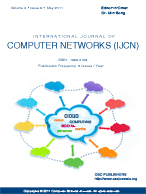 International Journal of Computer Networks (IJCN)
Published -
Bi-Monthly
| Established -
2010
| Year of Publication -
2018
Published by
CSC Journals, Kuala Lumpur Malaysia.

EDITORIAL BOARD
Dr. Jiang Li
Howard University - China
Contact Details
Email - lij@scs.howard.edu
Department of Systems and Computer Science, Howard University 2300 6th Street, NW Washington, DC, 20059
China
ABOUT Dr. Jiang Li
Dr. Jiang (Leo) Li received his B.S. (1995) and M.S. (1998) degrees in Computer Science from University of Science and Technology of China, and Ph.D. degree (2003) in Computer Science from Rensselaer Polytechnic Institute. He is currently an associate professor in the Department of Systems and Computer Science at Howard University, Washington, DC. His research interests include computer networking, network security and network simulations. He has published in such areas as congestion control, multicast, sensor networks. His funded research now focuses on mobile ad hoc networks and delay/disruption tolerant networks.