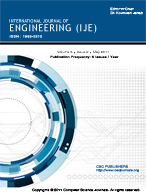 International Journal of Engineering (IJE)
Published -
Bi-Monthly
| Established -
2007
| Year of Publication -
2018
Published by
CSC Journals, Kuala Lumpur Malaysia.

EDITORIAL BOARD

Dr. Alireza Bahadori
Curtin University - Australia
Contact Details
Email - alireza.bahadori@postgrad.curtin.edu.au
Department of Chemical Engineering, School of Chemical & Petroleum Engineering Curtin University GPO Box U1987 Perth, WA, 6845 Australia
Australia
ABOUT Dr. Alireza Bahadori
Dr. Alireza Bahadori is a PhD research scientist in the School of Chemical and Petroleum Engineering at Curtin University, Perth, WA, Australia. Alireza is the lead author of over 150 refereed journal articles, international conference papers, technical magazine articles, letter to the editors and industrial reports and a book: titled Novel Predictive Tools for Oil, Gas and Chemical Industries, (ISBN: 978-3-639-32019-0). He is the recipient of the top author award from ELSEVIER publishing Co for selection as the outstanding author of Journal of Natural Gas Science and Engineering (2008-2010). Alireza received highly competitive and prestigious awards during his PhD research at Curtin University such as Australian Government's Department of Education Science and Training Endeavour International Postgraduate Research Scholarship (EIPRS) and the Western Australia State Government's top-up scholarship through the Western Australian Energy Research Alliance (WA:ERA).
He also serves as a member of advisory reviewers board for several leading international journals such as Coordination Chemistry Reviews Applied Thermal Engineering, Korean Journal of Chemical Engineering, Journal of Energy Sources and etc.