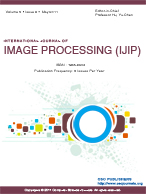 International Journal of Image Processing (IJIP)
Published -
Bi-Monthly
| Established -
2007
| Year of Publication -
2018
Published by
CSC Journals, Kuala Lumpur Malaysia.

EDITORIAL BOARD

Assistant Professor Concetto Spampinato
University of Catania - Italy
Contact Details
Email - cspampin@gmail.com
Viale Andrea Doria, 6 - 95125 Catania - Italy
Italy
ABOUT Assistant Professor Concetto Spampinato
Concetto Spampinato received the Laurea (grade 110/110 cum laude) degree in computer engineering and the Ph.D. degree from the University of Catania, Catania, Italy, in 2004 and 2008, respectively, where he is currently a Research Assistant. His research interests include mainly image and video analysis, content-based and semantic image and video retrieval, event detection in multimedia, medical image analysis and semantic web in medical informatics. He has coauthored more than 70 publications in international refereed journals and conference proceedings. Dr. Spampinato is a member of the International Association for Pattern Recognition. He is also reviewer of many international journals such as IEEE Transactions on Intelligent Transportation System, Journal Optical Engineering - SPIE, IEEE Transactions on Industrial Informatics, IEEE Trans- actions on Measurement and Instrumentation, IEEE Transactions on Image Processing (TIP), Computer Vision and Image Understanding (Elsevier), Pattern Recognition (Elsevier), Computers in Biology and Medicine (Elsevier), Medical Engineering and Physics (Elsevier).