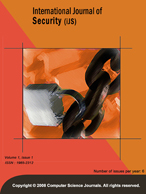 International Journal of Security (IJS)
Godfried Williams
(University of Gloucestershire and CEO of Intellas - United Kingdom)
Published -
Bi-Monthly
| Established -
2007
| Year of Publication -
2018
Published by
CSC Journals, Kuala Lumpur Malaysia.

IJS SERVICES FOR AUTHOR
Author services ensure the efficient and smooth execution of submission, peer-review, publication and all the steps in between that are needed for quality publication in IJS. For authors submitting their paper to IJS, these services guide them through a workflow to easily understand the submission guidelines, peer-review process through which their paper will undergo and publication process.
For accepted papers, IJS author services ensure that the accepted paper will undergo through different production & print steps that are needed to bring the latest research to the global community.
For published papers, IJS author services guarantee the wide dissemination of author work to research communities including universities, libraries, scientists and industrial experts. Our dedicated team also make sincere efforts to raise author profiles and influence in the communities that matter the most including author institution, professional colleagues and students.
PRE-PUBLICATION
Detailed Guidelines on review standards and helpful hints for getting published in IJS.
Fast Communication with authors responding to their queries.
Online Submission System help our authors to submit their paper online with simple clicks thus reducing time to publication in IJS.
Tracking of articles right after submissions through Author Dashboard.
CSC-OpenAccess options for IJS authors under several partnership programs.
ACCEPTANCE
Early View service for IJS authors to access full-text, peer-reviewed, copyedited articles prior to final publication.
SEO Optimization of accepted paper for search engines to increase chance of being viewed or cited in another work.
Paper tracking at every stage of production through Author Dashboard.
Author discount on IJS subscriptions through several partnership programs and offers.
POST-PUBLICATION
Abstracting & Indexing of IJS published papers for wider dissemination.
CSC-OpenAccess Library to give free access to IJS publications.
Efforts to Increase Citations through email marketing.
Free Printed Issue Copy for primary author.
Continuous Assistance to IJS authors helping them to share their articles through academic databases and websites.
Raise of Author Profiles in related communities through magazines, social websites. We also highlight author profiles by including it in IJS journal issues.
Discounted Subscriptions options for IJS authors and their institute.