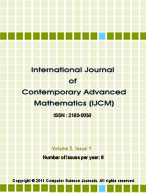 International Journal of Contemporary Advanced Mathematics (IJCM)
Published -
Bi-Monthly
| Established - | Year of Publication -
2020
SUBMISSION
November 30, 2020

NOTIFICATION
December 31, 2020

PUBLICATION
January 31, 2021

ABOUT IJCM
International Journal of Contemporary Advanced Mathematics (IJCM) aims to provide innovative and scientific knowledge in the field of mathematics and physics and therefore provides an international platform for the researchers, scientists and industrial practitioners to share their interests, identify the problems and their solutions and new approaches with respect to mathematics.

IJCM publishes theoretical, experimental and practical studies with a view to create awareness among the young scientists, researchers and students regarding significance of mathematics and physics in education and business management sciences. The journal is targeted to be read by mathematicians, professors, researchers, engineers, scientists, graduate students and industrial professionals.

The journal contributes by publishing state-of-the-art content relevant to mathematics and physics. The journal assists the intended audience to discuss, develop, and innovate techniques that will be helpful in operations and mathematical sciences.
LIST OF TOPICS




Annals of Mathematics and Artificial Intelligence

Applications of Mathematics

Applied Mathematical Finance

Applied Mathematical Modelling

Applied mathematics and Mechanics



Discrete Applied Mathematics






Mathematical Numerical Analysis


CITATION ANALYSIS

In-process citations of IJCM that are extracted through Google Scholar.



Total Citations = 25
Self Citations = 0
Total Publications = 6


Citation Impact
(Total Citations - Self Citations) / Total Publications

Citation Impact
(25 - 0) / 6 = 4.167

In-Process Citation Report for IJCM

- Wide dissemination of publications

- International readership

- Qualitative Processes
(submission, review and publication)

- Pre / Post publication services

- Fast & timely publications

ARTICLE PROCESSING CHARGES (APC)

- Low APC when compared with other publishers

- Full/Partial Waiver in APC to young scientists

PARTNERSHIP & COLLABORATION