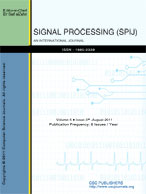 Signal Processing: An International Journal (SPIJ)
Published -
Bi-Monthly
| Established -
2007
| Year of Publication -
2020
SUBMISSION
January 31, 2021

NOTIFICATION
February 28, 2021

PUBLICATION
March 31, 2021

ABOUT SPIJ
Signal Processing: An International Journal (SPIJ) is a peer review open access international publication that lays emphasis on all aspects of the theory and practice of signal processing (analogue and digital) in new and emerging technologies. It features original research work, review articles, and accounts of practical developments. SPIJ is intended for a rapid dissemination of knowledge and experience to engineers and scientists working in the research, development, practical application or design and analysis of signal processing, algorithms and architecture performance analysis (including measurement, modeling, and simulation) of signal processing systems.

SPIJ publishes latest research and analysis made in the field of biomedical signal processing, communication signal processing, data processing, digital signal processing, earth resources signal processing, pattern recognition, signal processing technology and sonar signal processing. The journal is designed to assist readers not only to learn from industrial experiences but also to publicize and promote information and advanced techniques with respect to signal processing.

SPIJ encouraged practicing electronic, electrical, mechanical, systems, sensor, instrumentation, chemical engineers, researchers in advanced control systems and signal processing, applied mathematicians, computer scientists among others, to express their views and ideas on the current trends, challenges, implementation problems and state of the art technologies.
LIST OF TOPICS

Acoustic and Vibration Signal Processing

Biomedical Signal Processing

Communication Signal Processing



Digital Signal Processing

Earth Resources Signal Processing

Geophysical and Astrophysical Signal Processing


Multi-dimensional Signal Processing

Optical Signal Processing





Signal Processing Systems

Signal Processing Technology






CITATION ANALYSIS

In-process citations of SPIJ that are extracted through Google Scholar.



Total Citations = 480
Self Citations = 1
Total Publications = 123


Citation Impact
(Total Citations - Self Citations) / Total Publications

Citation Impact
(480 - 1) / 123 = 3.894

In-Process Citation Report for SPIJ

- Wide dissemination of publications

- International readership

- Qualitative Processes
(submission, review and publication)

- Pre / Post publication services

- Fast & timely publications

ARTICLE PROCESSING CHARGES (APC)

- Low APC when compared with other publishers

- Full/Partial Waiver in APC to young scientists

PARTNERSHIP & COLLABORATION
SPIJ PUBLICATIONS

Universities, institutes & research centers.

UNITED STATES OF AMERICA
AUSTRALIA
GERMANY
BRAZIL
POLAND
SWEDEN
MALAYSIA
TURKEY
CHINA
JAPAN
MOROCCO
TUNISIA

ABSTRACTING & INDEXING

Google Scholar
ScientificCommons
Semantic Scholar
Academic Index
CiteSeerX
BibSonomy
refSeek
TechRepublic
iSEEK
Socol@r
ResearchGate
Doc Player
Bielefeld Academic Search Engine (BASE)
OpenJ-Gate
Scribd
WorldCat
Eng Paper
SlideShare
PdfSR
Google Books
Refer to SPIJ Abstracting & Indexing for complete list of databases/websites.