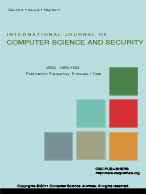 International Journal of Computer Science and Security (IJCSS)
Published -
Bi-Monthly
| Established -
2007
| Year of Publication -
2019
SUBMISSION
December 31, 2019

NOTIFICATION
January 31, 2020

PUBLICATION
February 29, 2020

ABOUT IJCSS
International Journal of Computer Science and Security (IJCSS) is a peer review open access journal publishing the state of the art research in computer science and computer security technologies. IJCSS considers any material dealing primarily with the technological aspects of computer science and computer security. Subjects covered include: computer engineering, computer graphics, computer networks, computer security, cryptography, operating systems, programming languages, theory, design, implementation, analysis and many other topics relevant to computer science and security.

By publishing the original research papers & industrial experience-analysis studies and reports, the journal is targeted to be read by developers, designers, computer engineers, software engineers, academics, scholars, advanced students, practitioners, and computer security themes.

IJCSS invite specialists, researchers, scientists, designers, computer engineers, software engineers, academics, scholars from the fields of computer science and computer security to share their understanding and contributions towards scientific applications

IJCSS intends to provide its researchers and academics the latest and remarkable researches made by different scientists and industrial experts by providing free access to the published articles.
LIST OF TOPICS

Authentication and authorization models


Communications and data security












Parallel and distributed processing





CITATION ANALYSIS

In-process citations of IJCSS that are extracted through Google Scholar.



Total Citations = 2086
Self Citations = 5
Total Publications = 318


Citation Impact
(Total Citations - Self Citations) / Total Publications

Citation Impact
(2086 - 5) / 318 = 6.544

In-Process Citation Report for IJCSS

- Wide dissemination of publications

- International readership

- Qualitative Processes
(submission, review and publication)

- Pre / Post publication services

- Fast & timely publications

ARTICLE PROCESSING CHARGES (APC)

- Low APC when compared with other publishers

- Full/Partial Waiver in APC to young scientists

PARTNERSHIP & COLLABORATION
ABSTRACTING & INDEXING

Google Scholar
Academic Journals Database
ScientificCommons
Academia
Academic Index
CiteSeerX
BibSonomy
refSeek
TechRepublic
iSEEK
Socol@r
ResearchGate
Doc Player
Libsearch
Bielefeld Academic Search Engine (BASE)
OpenJ-Gate
Scribd
WorldCat
SlideShare
PdfSR
Google Books
NEW JOUR
The Collection of Computer Science Bibliographies
Electronic Journals Library
Ulrich's Periodicals Directory
Refer to IJCSS Abstracting & Indexing for complete list of databases/websites.