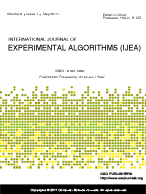 International Journal of Experimental Algorithms (IJEA)
Published -
Bi-Monthly
| Established - | Year of Publication -
2020
SUBMISSION
December 31, 2020

NOTIFICATION
January 31, 2021

PUBLICATION
February 28, 2021

ABOUT IJEA
The aim of International Journal of Experimental Algorithms (IJEA) is (1) to stimulate research in algorithms based upon implementation and experimentation; in particular, to encourage testing, evaluation and reuse of complex theoretical algorithms and data structures; and (2) to distribute programs and testbeds throughout the research community and to provide a repository of useful programs and packages to both researchers and practitioners. IJEA is a peer review, open access; archival journal devoted to the study of algorithms and data structures through a combination of experimentation and classical analysis and design techniques. IJEA contributions are also in the area of test generation and result assessment as applied to algorithms.

IJEA publishes high quality research papers in the field of algorithmic code, algorithmic engineering, analysis of algorithms, approximation techniques, combinatorial optimization, computational geometry, distributed and parallel algorithms, graph manipulation, mathematical programming for algorithms and randomized techniques in algorithms.

IJEA mainly focuses the specialists, academics, researchers, students, and scientists with an intention to provide innovative scientific knowledge and also provides opportunity to its interested readers to view and download these research articles through CSC Library under CSC Journals open access policy.
LIST OF TOPICS




Algorithmic Network Analysis



Cache Oblivious algorithm

Combinatorial Optimization

Combinatorial Structures and Graphs



Computational Learning Theory

Computational Optimization


Distributed and Parallel Algorithms


Experimental Techniques and Statistics




Mathematical Programming For Algorithms

Metaheuristic Methodologies



Randomized Techniques in Algorithms





CITATION ANALYSIS

In-process citations of IJEA that are extracted through Google Scholar.



Total Citations = 27
Self Citations = 0
Total Publications = 19


Citation Impact
(Total Citations - Self Citations) / Total Publications

Citation Impact
(27 - 0) / 19 = 1.421

In-Process Citation Report for IJEA

- Wide dissemination of publications

- International readership

- Qualitative Processes
(submission, review and publication)

- Pre / Post publication services

- Fast & timely publications

ARTICLE PROCESSING CHARGES (APC)

- Low APC when compared with other publishers

- Full/Partial Waiver in APC to young scientists

PARTNERSHIP & COLLABORATION
IJEA PUBLICATIONS

Universities, institutes & research centers.

UNITED STATES OF AMERICA
CANADA
NETHERLANDS
MALAYSIA
CHINA
SAUDI ARABIA
NIGERIA
INDIA

ABSTRACTING & INDEXING

Google Scholar
Academic Index
CiteSeerX
BibSonomy
refSeek
TechRepublic
iSEEK
ResearchGate
Doc Player
Bielefeld Academic Search Engine (BASE)
Scribd
SlideShare
PdfSR
Google Books
Refer to IJEA Abstracting & Indexing for complete list of databases/websites.