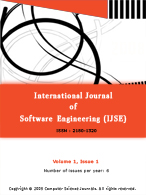 International Journal of Software Engineering (IJSE)
Published -
Bi-Monthly
| Established - | Year of Publication -
2020
SUBMISSION
November 30, 2020

NOTIFICATION
December 31, 2020

PUBLICATION
January 31, 2021

ABOUT IJSE
International Journal of Software Engineering (IJSE) is an open access journal that provides a forum for software engineering research and publishes empirical results relevant to both researchers and practitioners. IJSE encourage researchers, practitioners, and developers to submit research papers reporting original research results, technology trend surveys reviewing an area of research in software engineering and knowledge engineering, survey articles surveying a broad area in software engineering and knowledge engineering, tool reviews and book reviews.

IJSE covers general topics that usually involve the study on collection and analysis of data and experience that can be used to characterize, evaluate and reveal relationships between software development deliverables, practices, and technologies. Besides these, the journal mainly includes computer-based engineering techniques, data modeling techniques, iterative model, modeling languages, software components, software engineering methods and practices and systems engineering. IJSE is a peer review journal that promotes the publication of industry-relevant research, to address the significant gap between research and practice.
LIST OF TOPICS

Ambiguity in Software Development

Application of Object-Oriented Technology to Engin

Architecting an OO System for Size Clarity Reuse E

Composition and Extension

Computer-Based Engineering Techniques


History of Software Engineering


Impact of CASE on Software Development Life Cycle



Knowledge Engineering Methods and Practices






Rational Unified Processing




Software Design and applications in Various Domain

Software Engineering Demographics

Software Engineering Economics

Software Engineering Methods and Practices

Software Engineering Professionalism


Software Maintenance and Evaluation


Structuring (Large) OO Systems



CITATION ANALYSIS

In-process citations of IJSE that are extracted through Google Scholar.



Total Citations = 168
Self Citations = 0
Total Publications = 41


Citation Impact
(Total Citations - Self Citations) / Total Publications

Citation Impact
(168 - 0) / 41 = 4.098

In-Process Citation Report for IJSE

- Wide dissemination of publications

- International readership

- Qualitative Processes
(submission, review and publication)

- Pre / Post publication services

- Fast & timely publications

ARTICLE PROCESSING CHARGES (APC)

- Low APC when compared with other publishers

- Full/Partial Waiver in APC to young scientists

PARTNERSHIP & COLLABORATION
IJSE PUBLICATIONS

Universities, institutes & research centers.

UNITED STATES OF AMERICA
UNITED KINGDOM
CANADA
CHINA
MALAYSIA
SAUDI ARABIA
OMAN
EGYPT
NIGERIA
INDIA

ABSTRACTING & INDEXING

Google Scholar
Academic Index
CiteSeerX
refSeek
TechRepublic
iSEEK
ResearchGate
Doc Player
Bielefeld Academic Search Engine (BASE)
OpenJ-Gate
Scribd
SlideShare
PdfSR
Google Books
Refer to IJSE Abstracting & Indexing for complete list of databases/websites.