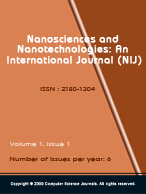 Nanosciences and Nanotechnologies: An International Journal (NIJ)
Published -
Bi-Monthly
| Established - | Year of Publication -
2019
SUBMISSION
December 31, 2019

NOTIFICATION
January 31, 2020

PUBLICATION
February 29, 2020

ABOUT NIJ
Nanotechnology has enormous potential to change society as it lead to new medical treatments and tools; more efficient energy production, storage and transmission; better access to clean water; more effective pollution reduction and prevention; and stronger, lighter materials.

Nanosciences and Nanotechnologies: An International Journal (NIJ) is a peer-review open access journal with a wide coverage, consolidating research activities in all areas of nanoscience and nanotechnology into a single and unique reference source. With an open access policy, NIJ is publishing high quality scientific research of technological findings, timely state-of-the-art reviews, current scientific research in the area relevant to nanoscience and nanotechnology.

NIJ is a peer-reviewed journal and covers wide range of topics that include atomic manipulation, DNA sequencing, green nanotechnology, molecular nanoscience, nanobiotechnology, nanochips, nanoelectronics, nanofluidics, nanoparticles, nanotubes, supramolecules and many other topics relevant to nanoscience and nanotechnology. The journal welcomes researchers, professors, students, scientists, engineers, policy makers and research centres and provides a platform to share their opinions and ideas with respect to nanosciences and nanotechnologies.
LIST OF TOPICS

Atomic and Nanoscale Characterization of Functiona


Computational Nanotechnology
















Nanofabrication and Processing of Nanoscale Materi



Nanomagnetism and Nanodevices


Nanomedicines Biomedical Nanotechnolog








Nanosensors and Nano-integration


Nanotechnology in Genetic Engineering

Nanotechnology in Molecular Engineering

Nanotechnology in Protein Engineering

Nanotechnology in Proteome

Nanotechnology in Structural Biology




Novel Applications of Nanostructured Materials

Properties of Nanoscale Materials




Structure Analysis at Atomic, Molecular, and Nanom



Synthesis of Nanostructured and Nanoscale Material
CITATION ANALYSIS

In-process citations of NIJ that are extracted through Google Scholar.



Total Citations = 2
Self Citations = 0
Total Publications = 2


Citation Impact
(Total Citations - Self Citations) / Total Publications

Citation Impact
(2 - 0) / 2 = 1.000

In-Process Citation Report for NIJ

- Wide dissemination of publications

- International readership

- Qualitative Processes
(submission, review and publication)

- Pre / Post publication services

- Fast & timely publications

ARTICLE PROCESSING CHARGES (APC)

- Low APC when compared with other publishers

- Full/Partial Waiver in APC to young scientists

PARTNERSHIP & COLLABORATION
ABSTRACTING & INDEXING

Google Scholar
Academic Index
CiteSeerX
refSeek
TechRepublic
iSEEK
ResearchGate
Bielefeld Academic Search Engine (BASE)
Scribd
SlideShare
PdfSR
Google Books
Refer to NIJ Abstracting & Indexing for complete list of databases/websites.