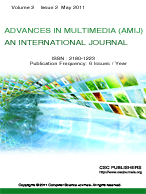 Advances in Multimedia - An International Journal (AMIJ)
Published -
Bi-Monthly
| Established - | Year of Publication -
2020
SUBMISSION
December 31, 2020

NOTIFICATION
January 31, 2021

PUBLICATION
February 28, 2021

ABOUT AMIJ
Advances in Multimedia - An International Journal (AMIJ) is a peer-review open access journal presenting the theory and practice of multimedia including image and video processing problems. AMIJ aims at disseminating high level research results and engineering developments to all Image or Video Processing researchers and research groups. The journal features original research work, review and tutorial papers and accounts of practical developments. By presenting practical solutions for the current Image and Video processing problems, AMIJ is intended for the rapid dissemination of knowledge and experience to scientists and engineers working in any area related to or using multimedia, image and video processing.

AMIJ features practical results, applications, and contributions that describe advances in such areas as computer animation, multimedia analysis, multimedia compression, multimedia encoding, multimedia search and retrieval, multimedia systems, computer vision, visualization and many other topics relevant to multimedia.

The journal invites scientists, engineers, researchers, specialists, academics and multimedia professionals from different disciplines to exchange their ideas and approaches with respect to multimedia. AMIJ is intended to provide high quality content relevant to multimedia that will benefit its readers to propagate latest information and also to learn from the other researchers' work.
LIST OF TOPICS




Applications of Visual and Multimedia Techniques

Color and Multi-Spectral Processing






Motion Capture and Synthesis






Multimedia Signal Processing


Non-Photorealistic Rendering






CITATION ANALYSIS

In-process citations of AMIJ that are extracted through Google Scholar.



Total Citations = 32
Self Citations = 0
Total Publications = 14


Citation Impact
(Total Citations - Self Citations) / Total Publications

Citation Impact
(32 - 0) / 14 = 2.286

In-Process Citation Report for AMIJ

- Wide dissemination of publications

- International readership

- Qualitative Processes
(submission, review and publication)

- Pre / Post publication services

- Fast & timely publications

ARTICLE PROCESSING CHARGES (APC)

- Low APC when compared with other publishers

- Full/Partial Waiver in APC to young scientists

PARTNERSHIP & COLLABORATION
AMIJ PUBLICATIONS

Universities, institutes & research centers.

UNITED STATES OF AMERICA
CHINA
SAUDI ARABIA
MALAYSIA
MOROCCO
EGYPT
INDIA

ABSTRACTING & INDEXING

Google Scholar
ScientificCommons
Academic Index
CiteSeerX
refSeek
TechRepublic
iSEEK
ResearchGate
Bielefeld Academic Search Engine (BASE)
OpenJ-Gate
Scribd
SlideShare
PdfSR
Google Books
Refer to AMIJ Abstracting & Indexing for complete list of databases/websites.