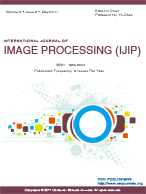 International Journal of Image Processing (IJIP)
Published -
Bi-Monthly
| Established -
2007
| Year of Publication -
2020
SUBMISSION
January 31, 2021

NOTIFICATION
February 28, 2021

PUBLICATION
March 31, 2021

ABOUT IJIP
International Journal of Image Processing (IJIP) publishes high quality theoretical and applied research in the Image Processing domain from scientific research to application development. IJIP emphasizes on efficient and effective image technologies, and provides a central forum for a deeper understanding in the discipline by encouraging the quantitative comparison and performance evaluation of the emerging components of image processing.

IJIP is a peer review open access journal that publishes scientific research papers in the field of architecture of imaging and vision systems, character and handwritten text recognition, color imaging, display and printing, image capturing, image generation, image permanence and remote image sensing. The journal emphasizes on the dynamic and productive image processing and promulgates both the original research papers and industrial experience-analysis studies and reports with a view to provide scholarly research in original research papers and real time innovations, development and advancement in different disciplines of image processing in industrial studies and reports.

By focusing on the different research societies, IJIP mainly targets researchers, scientists and engineers relevant to image processing in the field of image generation, image processing, image representation, image sensing and latent image by communicating relevant and updated research papers that will assist them not only to learn from industrial experiences but also help them to use various techniques to make new developments and innovations in image processing.
LIST OF TOPICS

Active vision and robotic systems

Architecture of imaging and vision systems


Character and handwritten text recognition

Chemical and spectral sensitization

Chemistry of photosensitive materials



Cognitive aspects of image understanding


Communication of visual data

Data fusion from multiple sensor inputs


Document image understanding



Image analysis and interpretation







Image processing applications

Image processing: coding analysis and recognition



Imaging systems and image scanning

Implementation and architectures


Materials for electro-photography

Monitoring and surveillance

Network architecture for real-time video transport

New visual services over ATM/packet network

Non-impact printing technologies

Object modeling and knowledge acquisition




Prepress and printing technologies


Protocols for packet video




Signal-processing aspects of image processing


Video coding algorithms and technologies for ATM/p

CITATION ANALYSIS

In-process citations of IJIP that are extracted through Google Scholar.



Total Citations = 2396
Self Citations = 0
Total Publications = 340


Citation Impact
(Total Citations - Self Citations) / Total Publications

Citation Impact
(2396 - 0) / 340 = 7.047

In-Process Citation Report for IJIP

- Wide dissemination of publications

- International readership

- Qualitative Processes
(submission, review and publication)

- Pre / Post publication services

- Fast & timely publications

ARTICLE PROCESSING CHARGES (APC)

- Low APC when compared with other publishers

- Full/Partial Waiver in APC to young scientists

PARTNERSHIP & COLLABORATION
IJIP PUBLICATIONS

Universities, institutes & research centers.

UNITED STATES OF AMERICA
UNITED KINGDOM
AUSTRALIA
CANADA
FRANCE
GERMANY
SPAIN
ITALY
BRAZIL
NEW ZEALAND
MALAYSIA
CHINA
JAPAN
TAIWAN
SAUDI ARABIA

ABSTRACTING & INDEXING

Google Scholar
Academic Journals Database
ScientificCommons
Academia
Semantic Scholar
Academic Index
CiteSeerX
BibSonomy
refSeek
TechRepublic
iSEEK
Socol@r
ResearchGate
Doc Player
Libsearch
Bielefeld Academic Search Engine (BASE)
OpenJ-Gate
Scribd
Krest Technologies
Eng Paper
Mafiadoc
Scoop It
WorldCat
SlideShare
PdfSR
Refer to IJIP Abstracting & Indexing for complete list of databases/websites.