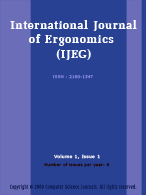 International Journal of Ergonomics (IJEG)
Published -
Bi-Monthly
| Established - | Year of Publication -
2020
SUBMISSION
July 31, 2020

NOTIFICATION
August 31, 2020

PUBLICATION
September 30, 2020

ABOUT IJEG
Ergonomics concerns the optimum design of products, jobs and systems in relation to human beings. The original purpose of ergonomics was to enhance both the efficiency and well-being of the workforce. These days it applies to the efficiency and welding of human beings in all areas of life - from the factory floor to the home, from the airport terminal to the country road. International Journal of Ergonomics (IJEG) is a peer reviewed open access journal and intends to be an outlet for theoretical and empirical research contributions from scholars and practitioners, concerned with the understanding of interactions among humans and other elements of a system.

IJEG provide highest quality research to its readers in the field of anthropometric studies, applied ergonomics, cooperative work, crew resource management, ergonomics & society, human factors and ergonomics in manufacturing, macroergonomics, occupational safety and ergonomics, seating ergonomics and virtual organizations. The journal mainly targets academicians, ergonomists, practitioners, managers, researchers, designers and technologists and invites them to bring new researches in the field of ergonomics in order to remove the hindrances that could affect the workplace ergonomics.
LIST OF TOPICS









Ergonomics in the Workplace


Human Factors and Ergonomics in Manufacturing




Occupational Safety and Ergonomics

Organizational Ergonomics






Theoretical Issues in Ergonomics Science


IJEG PUBLICATIONS

Universities, institutes & research centers.

UNITED STATES OF AMERICA
CANADA
FRANCE
ITALY
BRAZIL
SWITZERLAND
MALAYSIA
INDONESIA
CHINA
JAPAN
SAUDI ARABIA
OMAN
SLOVENIA
NIGERIA
INDIA

ABSTRACTING & INDEXING

Google Scholar
SemanticScholar
Exercise & Health Psychology Laboratory
The HKU Scholars Hub
Academic Index
CiteSeerX
BibSonomy
refSeek
TechRepublic
iSEEK
ResearchGate
Doc Player
Bielefeld Academic Search Engine (BASE)
Scribd
SlideShare
PdfSR
Google Books
Refer to IJEG Abstracting & Indexing for complete list of databases/websites.
CITATION ANALYSIS

In-process citations of IJEG that are extracted through Google Scholar.



Total Citations = 24
Self Citations = 0
Total Publications = 23


Citation Impact
(Total Citations - Self Citations) / Total Publications

Citation Impact
(24 - 0) / 23 = 1.043

In-Process Citation Report for IJEG

- Wide dissemination of publications

- International readership

- Qualitative Processes
(submission, review and publication)

- Pre / Post publication services

- Fast & timely publications

ARTICLE PROCESSING CHARGES (APC)

- Low APC when compared with other publishers

- Full/Partial Waiver in APC to young scientists

PARTNERSHIP & COLLABORATION