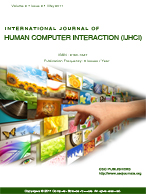 International Journal of Human Computer Interaction (IJHCI)
Impact Factor -
Published -
Bi-Monthly
| Established - | Year of Publication -
2015
Published by
CSC Journals, Kuala Lumpur Malaysia.

ABOUT IJHCI
The International Journal of Human Computer Interaction (IJHCI) publishes original research over the whole spectrum of work relevant to the ergonomics and practice of innovative and interactive systems. The journal is an open access and peer review publication and is inherently interdisciplinary, covering research in computing, artificial intelligence, psychology, linguistics, communication, design, engineering, and social organization, which is relevant to the design, analysis, evaluation and application of human computer interactive systems.
IJHCI addresses the cognitive, social, health, ergonomic and other aspects of interactive computing including agent-based computing, computer supported cooperative work, graphic interaction, human-computer interaction theory, intelligent user interfaces, multimodal interaction and natural language interaction. IJHCI emphasizes the human element in relation to the systems in which humans function, operate, network, and communicate, including software, hardware, and their various contexts of use.
The journal targets ergonomists, socialists, academics, research communities, individuals and organizational groups and provides a platform to exchange their ideas, learn from practical applications and make new researches in the field of human computer interaction.
INVITATION FOR OPEN ACCESS PUBLICATIONS
PAPER SUBMISSION
August 31, 2015
AUTHOR NOTIFICATION : September 30, 2015
ISSUE PUBLICATION : October 2015

AUTHOR SERVICES
IJHCI provide great services to its authors that ensure efficient and smooth execution of submission, peer-review, publication and all the steps in between that are needed for quality publication. It includes:
Online submission system
Fast Communication
Early View Service
SEO Optimization
Abstracting & Indexing
Refer to IJHCI Author Services for more information.
PARTNERSHIPS & COLLABORATIONS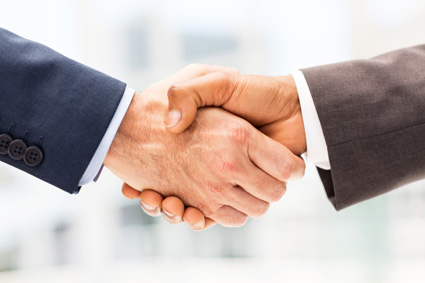 Share your ideas for partnerships and corporate tie-ups at both individual and organizational levels.
Find more in Partnerships & Collaborations from authors, editors, readers to societies, librarians, book sellers and conference organizers.