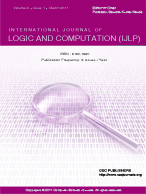 International Journal of Logic and Computation (IJLP)
Published -
Bi-Monthly
| Established - | Year of Publication -
2020
SUBMISSION
December 31, 2020

NOTIFICATION
January 31, 2021

PUBLICATION
February 28, 2021

ABOUT IJLP
The International Journal of Logic and Computation (IJLP) is a peer review open access journal aiming to promote the growth of logic and computing research from the perspectives of logic, mathematics and computer science, but emphasizes semantics of programs, in contrast with the traditional treatment of formal languages as sets of strings. IJLP promote this new field with its comprehensive selection of technical scientific papers and regular contributions such as letters, reviews and discussions for logical systems using classical and non-classical logic, constructive logic, categorical logic, modal logic, type theory, logical issues in logic programming, knowledge-based systems and automated reasoning programming; logical programming issues in knowledge representation, non-monotonic reasoning, logics and semantics of programming and applications of logic in hardware and VLSI.

IJLP mainly targets academics, scientists, researchers, professors and computer engineers by publishing high quality research papers and providing free access to the issue archives. These research articles will help the intended audience not only to learn from the practical results but also to make new researches in the respective field.
LIST OF TOPICS

Applications of Logic in Hardware and VLSI


Challenges in Natural Language and Reasoning

Classical and Non-Classical Logic

Computer Logical Reasoning


Knowledge-Based Systems and Automated Reasoning Pr

Logic Representation Techniques

Logical Issues in Logic Programming

Logical Programming Issues in Knowledge Representa

Logics and Semantics of Programming




Programming Expressiveness

Programming Reasoning Test Collection


Semantic Representation in Logic Programming

Soft Computing Techniques


CITATION ANALYSIS

In-process citations of IJLP that are extracted through Google Scholar.



Total Citations = 15
Self Citations = 0
Total Publications = 13


Citation Impact
(Total Citations - Self Citations) / Total Publications

Citation Impact
(15 - 0) / 13 = 1.154

In-Process Citation Report for IJLP

- Wide dissemination of publications

- International readership

- Qualitative Processes
(submission, review and publication)

- Pre / Post publication services

- Fast & timely publications

ARTICLE PROCESSING CHARGES (APC)

- Low APC when compared with other publishers

- Full/Partial Waiver in APC to young scientists

PARTNERSHIP & COLLABORATION
IJLP PUBLICATIONS

Universities, institutes & research centers.

UNITED STATES OF AMERICA
ROMANIA
URUGUAY
NAMIBIA
INDIA

ABSTRACTING & INDEXING

Google Scholar
Academic Index
CiteSeerX
refSeek
TechRepublic
iSEEK
ResearchGate
Bielefeld Academic Search Engine (BASE)
Scribd
SlideShare
PdfSR
Google Books
Refer to IJLP Abstracting & Indexing for complete list of databases/websites.