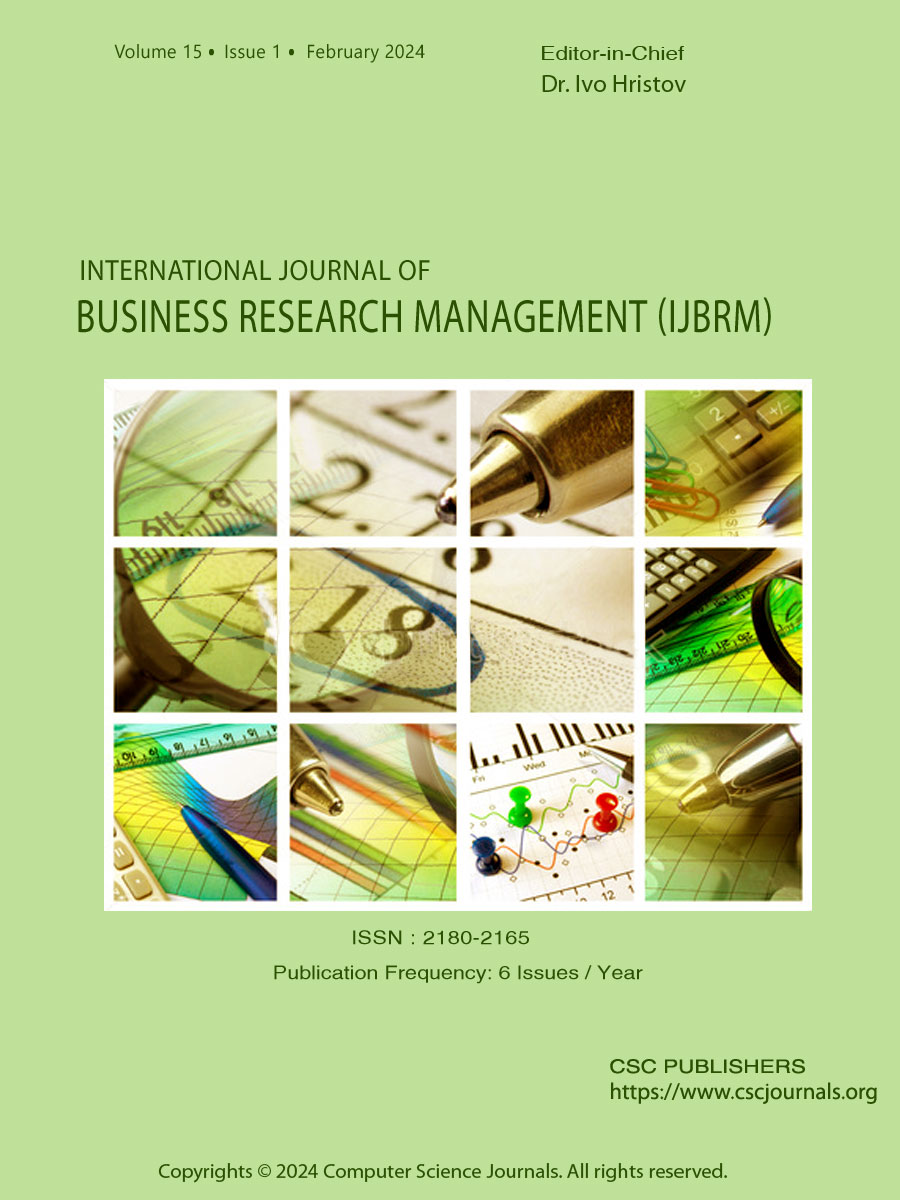 International Journal of Business Research Management (IJBRM)
Published -
Bi-Monthly
| Established -
2010
| Year of Publication -
2023
SUBMISSION
November 30, 2023

NOTIFICATION
December 31, 2023

PUBLICATION
January 31, 2024

CALL FOR PAPERS
Expected SUBMISSION Date
January 31, 2021
Expected NOTIFICATION Date
February 28, 2021
Expected PUBLICATION Date
March 31, 2021
SIBRM2 SUBMISSION GUIDELINES
| | | |
| --- | --- | --- |
| | | OPEN ACCESS LIBRARY |
IJBRM SPECIAL ISSUE
Pragmatic solutions to reasonably assure the sustainability of small businesses in the 21st century (SIBRM2)
GUEST EDITORS
• Dr. Juan-Pierré Bruwer (BruwerJP@cput.ac.za)


Cape Peninsula University of Technology (South Africa)
DETAILS
The socio-economic importance of small businesses cannot be underestimated. With 98% of all businesses the world being classified as small businesses [1], it makes sense as to why these entities conservatively contribute between 30% and 50% to the global Gross Domestic Product while simultaneously providing employment for a large proportion of the global workforce [2][3][4][5]. Unfortunately, research suggests that a large proportion of small businesses do not achieve their relevant objectives in their first three years of existence, resulting in their permanent closure. Hence, researchers are invited to share their insights on pragmatic solutions to reasonably assure the sustainability of small businesses, in the 21st century.

LIST OF TOPICS
A CALL FOR PAPERS is based on these possible (but not exclusively) themes including:

• Business Sustainability
• Small Businesses
• Sustainability
• Economic Sustainability
• Environmental Sustainability
• Social Sustainability

REFERENCES
[1] Ramadani, V., Memili, E., Palali?, R., & Chang, E. P. (2020). Nature of Family Business. In Entrepreneurial Family Businesses (pp. 1-28). Springer, Cham.
[2] Alsaaty, F. M., & Makhlouf, H. H. (2020). The Rise and Fall of Small Business Enterprises. Open Journal of Business and Management, 8(4), 1908-1916.
[3] Mdala, I. A., & Michael, P. (2019). Introduction to Management.
[4] Onyenego, O. L. (2018). Small Business Owners' Strategies for Success.
[5] Henriksen, L. (1999). Small firms and economic development: research, policy and practice. Journal of Small Business and Enterprise Development, 6(3), 215-218.
[6] Fergie, R., Hutchinson, K., & Magee, J. (2020, September). A Micro Business Leadership Development Framework. In Proceedings of BAM 2020 Conference in the Cloud. British Academy of Management.