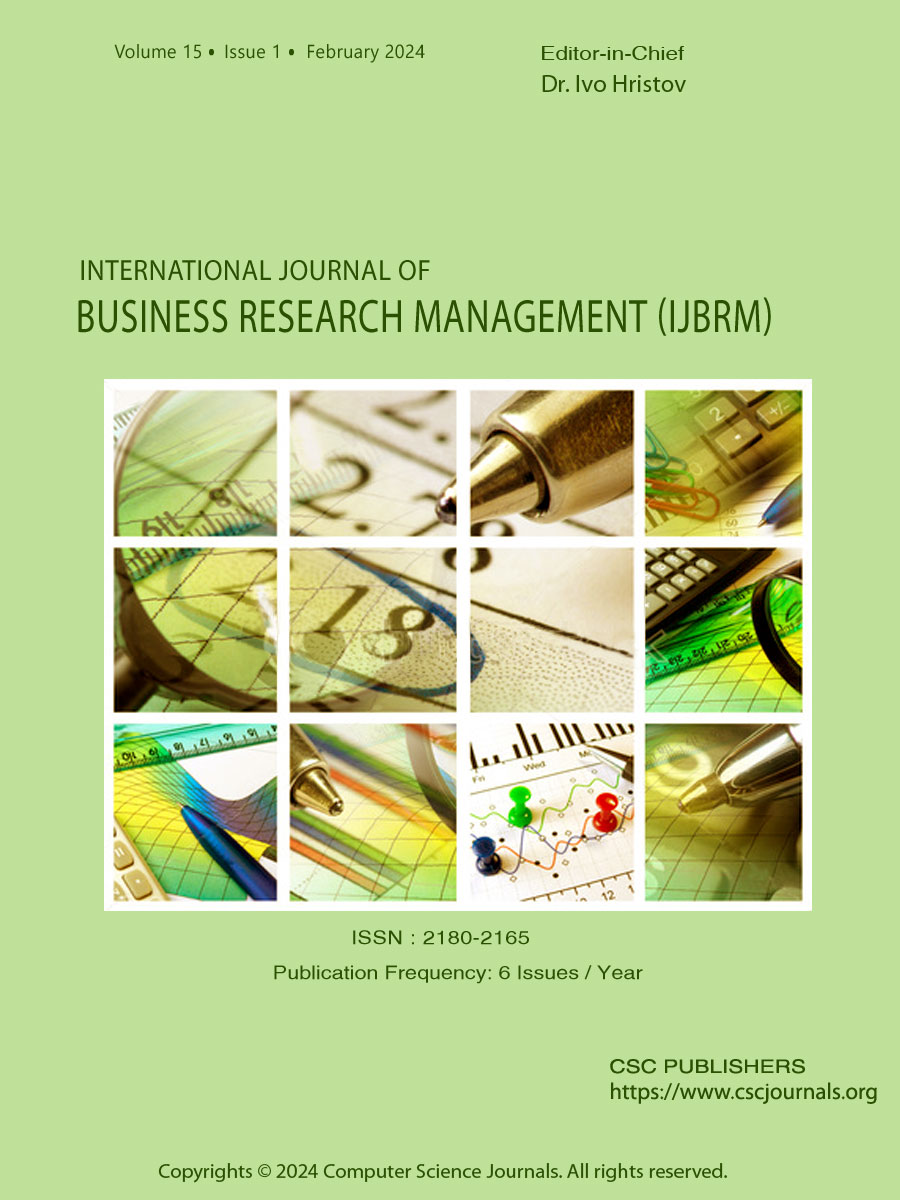 International Journal of Business Research and Management (IJBRM)
Published -
Bi-Monthly
| Established - | Year of Publication -
2020
SUBMISSION
October 31, 2020

NOTIFICATION
November 30, 2020

PUBLICATION
December 31, 2020

ABOUT IJBRM
As a peer-review and open access journal, International Journal of Business Research and Management (IJBRM) invite papers with theoretical research/conceptual work or applied research/applications on topics related to research, practice, and teaching in all subject areas of business model and strategy, business processes, e-commerce, collaborative commerce and net-enhancement, finance & investment, general business research, management information systems, organizational behavior & theory, production/operations management , strategic management and systems and technopreneurship management. IJBRM is intended to be an outlet for theoretical and empirical research contributions for scholars and practitioners in the business field.

IJBRM establishes an effective communication channel between decision- and policy-makers in business, government agencies, and academic and research institutions to recognize the implementation of important role effective systems in organizations. IJBRM aims to be an outlet for creative, innovative concepts, as well as effective research methodologies and emerging technologies for effective business management.

The journal welcomes entrepreneurs, practitioners, managers, researchers, scientists, scholars, consultants and academics and invites them to disseminate their latest research articles in their respective fields.

Recognized by National Evaluation Agency of the University System and Research (ANVUR List) Italy.
LIST OF TOPICS


Any Other Interdisciplinary Research Relevant to Business, Research and Management

Business & Economics Education



Business Model and Strategy



Cross-Culture Issues in Business

Customer Relationship Management

Decision Support and Knowledge-based Systems

E-commerce, Collaborative Commerce and Net-enhancement

Economics Business and Economic Systems


General Business Research



Globalisation, Business and Systems

Knowledge Management and Organisational Learning

Labor Relations & Human Resource Management

Management Information Systems

Management Systems and Sustainable Business


Marketing Theory and Applications

Modelling Simulation and Analysis of Business Process

Organizational Behavior & Theory

Production and Operations Systems

Production/Operations Management

Public Administration and Small Business Entreprenurship

Public Responsibility and Ethics

Strategic Management and Systems

Strategic Management Policy

Supply Chain and Demand Chain Management

Technologies and Standards for Improving Business

Technology & Innovation in Business Systems

Technopreneurship Management

Trust Issues in Business and Systems

Value Chain Modelling Analysis Simulation and Management

Value-based Management and Systems

Virtual Communities and Business
CITATION ANALYSIS

In-process citations of IJBRM that are extracted through Google Scholar.



Total Citations = 214
Self Citations = 0
Total Publications = 98


Citation Impact
(Total Citations - Self Citations) / Total Publications

Citation Impact
(214 - 0) / 98 = 2.184

In-Process Citation Report for IJBRM

- Wide dissemination of publications

- International readership

- Qualitative Processes
(submission, review and publication)

- Pre / Post publication services

- Fast & timely publications

ARTICLE PROCESSING CHARGES (APC)

- Low APC when compared with other publishers

- Full/Partial Waiver in APC to young scientists

PARTNERSHIP & COLLABORATION
IJBRM PUBLICATIONS

Universities, institutes & research centers.

UNITED STATES OF AMERICA
UNITED KINGDOM
CANADA
COLUMBIA
GERMANY
SPAIN
ITALY
BRAZIL
GREECE
FINLAND
MALAYSIA
CHINA
JAPAN
TAIWAN
SAUDI ARABIA

ABSTRACTING & INDEXING

Google Scholar
Academia
Academic Index
CiteSeerX
Semantic Scholar
BibSonomy
refSeek
TechRepublic
Biblioteca Digital
iSEEK
ResearchGate
Doc Player
Bielefeld Academic Search Engine (BASE)
OpenJ-Gate
Social Science Research Network (SSRN)
Scribd
Digitala Vetenskapliga Arkivet (DIVA)
SlideShare
PdfSR
Google Books
Refer to IJBRM Abstracting & Indexing for complete list of databases/websites.