Home
> Editor & Reviewers
OUR EDITORS & REVIEWERS
We understand that good publication practices do not develop by chance, instead expert opinions, dedication and constant support throughout the process is required. Because editors are the strength of the journal, we appoint highly qualified and experienced editors including editor-in-chief, associate editor-in-chief, editorial & reviewer boards members, managing editor and administrative support staff.
Each journal has a group of editors and supportive staff who are bounded together by their talent and integrity guaranteeing good publication practices and continuous improvement. Editors being a part of editorial board of our International peer reviewed journals are trusted for maintaining the International standards of research publications set by CSC Journals, selection of appropriate reviewers, managing peer-review process and identifying quality manuscripts for journal publication. Each journal has Internationally renowned editors who are committed to raise the International image and value of research work published in their journals.
Editorial boards at CSC Journals maintains a sense of ownership and are considered as the ambassadors of the journal who take responsibility for introducing the journal to their colleagues, research centers, universities and libraries within their country and around the globe.
CSC Journals invites scholars, researchers and academic professionals who think ahead, move fast, promote change and continuously apply innovative ideas and approaches to maintain and improve the high quality research platform for what CSC Journals has promised to International research communities.
Please visit Editors Guidelines for more information on editorial role & responsibilities, benefits & privileges and application criteria to apply for editorial collaborations with CSC Journals.
EDITORS MANAGING PEER REVIEW
Our editors managing peer-review & publications in open access journals.
FOR REVIEWERS
CSC Journals is expanding its network of specialized reviewers and looking for high profile scholars with strong academic background and invite them to join journal reviewer board.

Find more details in Reviewers & CSC Journals
SPECIAL ISSUE
Detailed guidelines on who can launch special issue.

Propose Special Issue if you have already prepared topic, introduction, guest editors and potential authors who have commited to submit in your special issue.
Special ISSUE of IJCN
Data Management and Network Control in Wireless Networks (SICN)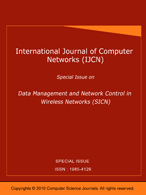 ORGANIZED BY
Dr. Min Song
Old Dominion University
United States of America