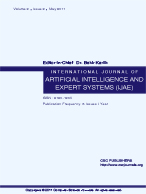 International Journal of Artificial Intelligence and Expert Systems (IJAE)
Published -
Bi-Monthly
| Established - | Year of Publication -
2020
SUBMISSION
January 31, 2021

NOTIFICATION
February 28, 2021

PUBLICATION
March 31, 2021

ABOUT IJAE
International Journal of Artificial Intelligence and Expert Systems (IJAE) provide a platform to Artificial Intelligence (AI) & Expert Systems (ES) scientists and professionals to share their research and report new advances in the field of AI and ES. IJAE is a peer review open access journal producing high quality research articles and studies as well as state-of-the-art surveys related to AI and ES. By establishing an effective channel of communication between theoretical researchers and practitioners, IJAE provides necessary support to practitioners in the design and development of intelligent and expert systems, and the difficulties faced by the practitioners in using the theoretical results provide feedback to the theoreticians to revalidate their models. IJAE thus meets the demand of both theoretical and applied researchers in artificial intelligence, soft computing and expert systems.

IJAE is a broad journal covering all branches of Artificial Intelligence and Expert Systems and its application in the topics including but not limited to AI for web intelligence applications, automated reasoning, case-based reasoning, emotional intelligence, expert systems components, fuzzy sets and logic, intelligent planning, intelligent system architectures, machine learning and neural networks for AI.

The journal mainly targets academics, scientists, researchers, specialists, artificial intelligence analysts, logicians and artificial neural network investigators by publishing latest content relevant to artificial intelligence and expert systems so as to provide necessary support in the design, development and implementation of intelligent and expert systems.
LIST OF TOPICS

AI for Service Engineering

AI for Web Intelligence Applications


AI Parallel Processing Tools

AI Tools for CAD and VLSI Analysis/Design/Testing

AI Tools for Computer Vision and Speech Understand


Application in VLSI Algorithms and Mobile Communic




Derivative-free Optimisation Algorithms


Evolutionary and Swarm Algorithms

Expert System Development Stages

Expert Systems Components

Expert-System Development Lifecycle


Heuristic and AI Planning Strategies and Tools

Hybridisation of Intelligent Models/algorithms



Integrated/Hybrid AI Approaches



Intelligent System Architectures



Knowledge-Based/Expert Systems






Object-Oriented Programming for AI

Parallel and Distributed Realisation of Intelligen


Reasoning and Evolution of Knowledge Bases



Self-Healing and Autonomous Systems


Visual/linguistic Perception
CITATION ANALYSIS

In-process citations of IJAE that are extracted through Google Scholar.



Total Citations = 347
Self Citations = 0
Total Publications = 62


Citation Impact
(Total Citations - Self Citations) / Total Publications

Citation Impact
(347 - 0) / 62 = 5.597

In-Process Citation Report for IJAE

- Wide dissemination of publications

- International readership

- Qualitative Processes
(submission, review and publication)

- Pre / Post publication services

- Fast & timely publications

ARTICLE PROCESSING CHARGES (APC)

- Low APC when compared with other publishers

- Full/Partial Waiver in APC to young scientists

PARTNERSHIP & COLLABORATION
IJAE PUBLICATIONS

Universities, institutes & research centers.

UNITED STATES OF AMERICA
UNITED KINGDOM
AUSTRALIA
CANADA
SWEDEN
BRAZIL
ECUADOR
MALAYSIA
CHINA
JAPAN
SAUDI ARABIA
TURKEY
EGYPT
NIGERIA
SRI LANKA

ABSTRACTING & INDEXING

Google Scholar
ScientificCommons
Academic Index
CiteSeerX
BibSonomy
Zenodo
refSeek
TechRepublic
iSEEK
ResearchGate
Doc Player
DataCite Search
Bielefeld Academic Search Engine (BASE)
OpenJ-Gate
Scribd
SlideShare
PdfSR
Google Books
Refer to IJAE Abstracting & Indexing for complete list of databases/websites.