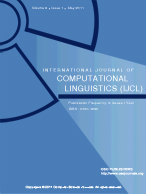 International Journal of Computational Linguistics (IJCL)
Published -
Bi-Monthly
| Established - | Year of Publication -
2018
SUBMISSION
November 30, 2018

NOTIFICATION
December 31, 2018

PUBLICATION
January 31, 2019

ABOUT IJCL
Computational linguistics is an interdisciplinary field dealing with the statistical and/or rule-based modeling of natural language from a computational perspective. Today, computational language acquisition stands as one of the most fundamental, beguiling, and surprisingly open questions for computer science.

International Journal of Computational Linguistics (IJCL) is a peer review open access bi-monthly journal providing a scientific forum where computer scientists, experts in artificial intelligence, mathematicians, logicians, cognitive scientists, cognitive psychologists, psycholinguists, anthropologists and neuroscientists can present research and experimental studies. The journal publishes papers that describe state-of-the-art techniques, scientific research studies and results in computational linguistics in general but computational models, corpus linguistics, computational theories, information retrieval and extraction, linguistics modeling techniques, linguistics theories, machine translation, natural language processing, quantitative linguistics, speech analysis and speech recognition in particular.

IJCL invite linguistic specialists, researchers and scientists from different domains to share their understanding and contributions towards linguistics that set scientific objectives and demonstrate the operation of new methods in the field of computational linguistics.
LIST OF TOPICS

Comparative Surveys that Critique Previously Repor

Computational Linguistics




Formal Linguistics-Theoretic and Grammar Induction

Information Retrieval and Extraction



Linguistics Modeling Techniques



Models of Language Change and its Effect on Lingui

Models that Address the Acquisition of Word-order

Models that Combine Linguistics Parsing

Models that Employ Statistical/probabilistic Gramm

Models that Employ Techniques from machine learnin

Natural Language Processing


Speech Analysis/Synthesis

Speech Recognition/Understanding


Web Information Extraction/Mining
CITATION ANALYSIS

In-process citations of IJCL that are extracted through Google Scholar.



Total Citations = 91
Self Citations = 0
Total Publications = 39


Citation Impact
(Total Citations - Self Citations) / Total Publications

Citation Impact
(91 - 0) / 39 = 2.333

In-Process Citation Report for IJCL

- Wide dissemination of publications

- International readership

- Qualitative Processes
(submission, review and publication)

- Pre / Post publication services

- Fast & timely publications

ARTICLE PROCESSING CHARGES (APC)

- Low APC when compared with other publishers

- Full/Partial Waiver in APC to young scientists

PARTNERSHIP & COLLABORATION
ABSTRACTING & INDEXING

Directory of Open Access Journals (DOAJ)
Google Scholar
ScientificCommons
Academic Index
CiteSeerX
refSeek
TechRepublic
iSEEK
ResearchGATE
Bielefeld Academic Search Engine (BASE)
OpenJ-Gate
Scribd
slideshare
PdfSR
Google Books
Refer to IJCL Abstracting & Indexing for complete list of databases/websites.