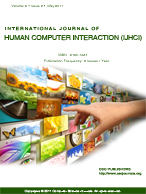 International Journal of Recent Trends in Human Computer Interaction (IJHCI)
Published -
Bi-Monthly
| Established - | Year of Publication -
2020
SUBMISSION
January 31, 2021

NOTIFICATION
February 28, 2021

PUBLICATION
March 31, 2021

ABOUT IJHCI
The International Journal Recent Trends in Human Computer Interaction (IJHCI) previously known as International Journal of Human Computer Interaction publishes original research over the whole spectrum of work relevant to the ergonomics and practice of innovative and interactive systems. The journal is an open access and peer review publication and is inherently interdisciplinary, covering research in computing, artificial intelligence, psychology, linguistics, communication, design, engineering, and social organization, which is relevant to the design, analysis, evaluation and application of human computer interactive systems.

IJHCI addresses the cognitive, social, health, ergonomic and other aspects of interactive computing including agent-based computing, computer supported cooperative work, graphic interaction, human-computer interaction theory, intelligent user interfaces, multimodal interaction and natural language interaction. IJHCI emphasizes the human element in relation to the systems in which humans function, operate, network, and communicate, including software, hardware, and their various contexts of use.

The journal targets ergonomists, socialists, academics, research communities, individuals and organizational groups and provides a platform to exchange their ideas, learn from practical applications and make new researches in the field of human computer interaction.
LIST OF TOPICS


Agent models Co-ordination and communication


Computer Mediated Communication

Computer Supported Cooperative Work

Design and Evaluation of Innovative Interactive Sy

Empirical Studies of User Behaviour


Human language Technologies and Machine Learning i

Human-Computer Interaction Theory

Innovative Interaction Techniques

Intelligent Tutoring, Coaching and Debugging Syste

Intelligent user Interfaces

Interaction in Mobile and Embedded Systems

Interactive Decision Support Systems

Interface Design and Evaluation Methodologies

Knowledge Acquisition, Discovery, Modeling and Man

Mixed and Augmented Reality


Natural language interaction

Peer to Peer Communication Between Intelligent Sys



User Interface Prototyping for Interactive Systems

CITATION ANALYSIS

In-process citations of IJHCI that are extracted through Google Scholar.



Total Citations = 174
Self Citations = 0
Total Publications = 48


Citation Impact
(Total Citations - Self Citations) / Total Publications

Citation Impact
(174 - 0) / 48 = 3.625

In-Process Citation Report for IJHCI

- Wide dissemination of publications

- International readership

- Qualitative Processes
(submission, review and publication)

- Pre / Post publication services

- Fast & timely publications

ARTICLE PROCESSING CHARGES (APC)

- Low APC when compared with other publishers

- Full/Partial Waiver in APC to young scientists

PARTNERSHIP & COLLABORATION
IJHCI PUBLICATIONS

Universities, institutes & research centers.

UNITED STATES OF AMERICA
UNITED KINGDOM
AUSTRALIA
FRANCE
GERMANY
ITALY
BRAZIL
FINLAND
GREECE
CHINA
JAPAN
SAUDI ARABIA
MALAYSIA

ABSTRACTING & INDEXING

Google Scholar
Academic Index
CiteSeerX
BibSonomy
refSeek
TechRepublic
iSEEK
ResearchGate
Doc Player
Bielefeld Academic Search Engine (BASE)
Scribd
SlideShare
PdfSR
Google Books
Refer to IJHCI Abstracting & Indexing for complete list of databases/websites.